Presents...
Sushi Haru Reviews
Kansas City sushi restaurant on State Line in KC
Location at 13133 State Line Rd, Kansas City, KS 64145
Phone (816) 942-1333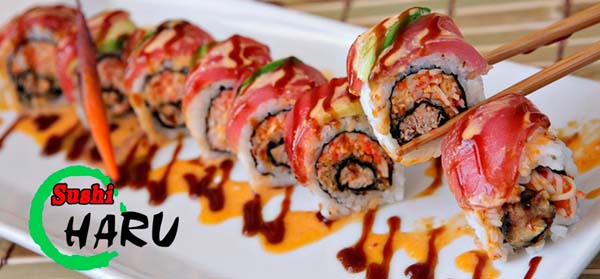 One of Kansas City's best kept secrets - tucked away in a little strip mall in southern Kansas City just off 133rd and State Line (basically Leawood, Kansas) - is one of our absolute favorite sushi restaurants. Complete with authentic private dining rooms, a full service bar, and general restaurant seating, Sushi Haru has everything you would want in a great sushi restaurant in KC. Owner Jay is usually in the house and is great for conversation as you enjoy any one of Sushi Haru's specialty rolls, great appetizers and even cocktails. The set up for this great Kansas City restaurant is an open Sushi preperation area with friendly and skilled sushi chefs. Sushi Haru KC features some of the best cuts of Niguri tuna and salmon that we have found anywhere in the KC area. Nice, thick and fresh pieces of both tuna and salmon come on regular sushi rice, or ask for "healthy rice" and be treated to a homemade recipe for rice that includes beans and other secret ingredients. Sushi Haru reviews are almost always 5 stars and they deliver with some of the most creative rolls and tempura in the KC area. Excellent for lunch (open from 11am - 3pm) or dinner (open from 5pm - 11pm) they offer the full menu for either. Please tweet Sushi Haru reviews to us at or look at the other Kansas City reviews below...
Reviewed on: July 25th, 2021
Loved the Beiber roll (creatively named after the owner's son when he came home with a new haircut) which features delicious fresh mango, salmon and a savory sauce made fresh in house. Decided to visit after noticing that most Sushi Haru reviews were very positive and we were not disappointed. The service was excellent and the restaurant was very clean and accommodating. We plan to come back with the entire family and enjoy one of the private dining rooms (set up in classic Japanese affair) and enjoy a large dinner with family and friends.

Sushi Haru Reviews - Kansas City Sushi Restaurant
_____________________________________________________
_____________________________________________________
Reviewed on: October 12th, 2021
I was very impressed by variety of sushi rolls and tempura on the menu and actually had a hard time making a decision. I finally got the Bret roll, which featured very fresh Jalapeno peppers, great sticky rice, and fresh cucumber. While at Sushi Haru I heard that the "hot mama roll" was the local favorite and I will have to try that next time. The look of the restaurant was very nice and there were a variety of seating choices, there was a regular bar as well as the classic sushi bar (in front of the sushi chefs) and there were also some nice private dining rooms. After noticing that Sushi Haru reviews were largely very good, I decided to pass on my usual lunch hang out and head down to 133rd and State Line to try this place out.

Sushi Haru Reviews - Kansas City Sushi Restaurant
_____________________________________________________
_____________________________________________________
Reviewed on: September 25th, 2021
Our family has been coming here for years, all the way back to the day when the old owner used to rock out on the karaoke machine after the restaurant had closed down to the public for the night. Those were the days! We still love to come in and see Jay and the gang at least once a week as Sushi Haru has the freshest and best prepared sushi in the KC area. We agree with all of the positive Sushi Haru reviews that they are a great restaurant to visit and have a nice lunch or even a large dinner with friends and family. Be sure and order the tuna niguri and the salmon niguri as they are top notch. You can't go wrong with the baby lobster roll either, but watch out, it is a meal unto itself. The crab and cucumber salad is excellent as well.

Sushi Haru Reviews - Kansas City Sushi Restaurant
_____________________________________________________
_____________________________________________________
Reviewed on: August 18th, 2021
We were incredibly impressed with the service and the quality of the sushi at Sushi Haru. There was a very wide selection of rolls and salads and the sushi was some of the freshest sushi we have had since moving to Kansas City in 2008. Our favorite was the Miso soup and the seaweed salad. We also enjoyed some great saki at the bar before we had dinner. The owner came out and greeted us and told us a little background on the restaurant, where they got their fresh fish and was very polite and fun. We can see why so many Sushi Haru reviews are very good and we will have to agree after enjoying a nice dinner and saki with friends. Be aware of the hours at this restaurant though as they do close down for a couple hours in the afternoon to reset for dinner, etc.

Sushi Haru Reviews - Kansas City Sushi Restaurant
Sushi Haru on Kansas City Restaurant Listing
_____________________________________________________
_____________________________________________________
Restaurants
Choose below to take a look at recent Kansas City restaurant reviews. Included in this assorted list are positive, negative and nuetral reviews for Kansas City BBQ restaurants, fine dining, steakhouses, and all votes go toward our famous "Best of Kansas City" awards for the most positive restaurant reviews.
Reviews of Kansas City Businesses and KC Company Reviews and Ratings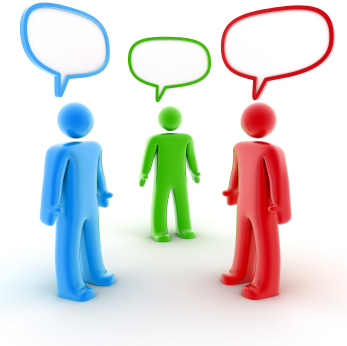 Finally! A FREE place to voice your opinion in the form of a review of local Kansas City businesses and companies that you have done business with and would like to rate them and leave comments. NO SIGN UP REQUIRED! Just follow us on Twitter and Tweet your reviews to us - it's that easy! We offer KC restaurant reviews, hotels, bands, rental car agencies, MCI airport, nightclubs and bars, theater productions, Kansas City concerts, grocery stores, entertainment, reviews of Kansas City contractors, lawn service, Kansas City weddings, coordinators, venuesand we also give you a "best of Kansas City" category so that you will see who has received the best Kansas City reviews from our site here at Kansas City One Stop.
Start Reviewing Kansas City!
Kansas City One Stop Menu

Kansas City One Stop is your one stop website to find information on KC reviews, bands, weddings, The Kansas City Chiefs, The Kansas City Royals, news, restaurants, bands for hire live, audio visual company, comedy radio, charity fundraisers and events, Kansas City hotels, information on New Year's Eve parties in Kansas City, 20s for KC, Halloween events in KC, downtown action and more. Visit often as this site is updated daily with fresh information about the Kansas City area including the Plaza, Westport, Overland Park, Leawood, Mission Hills, Lee's Summit and other surrounding areas in the KC area. Kansas City One Stop is locally owned and operated. Our goal is to bring you everything you need to know about our great city in one nice and easy "stop".

Kansas City Restaurants | Kansas City Bands | KCMB - Kansas City News | Bands for Hire Live! | BIG SHOW Dueling Pianos | kansas city wedding venues | Audio Visual AV Solutions KC | KC wedding bands | Kansas City Band and DJ Service | Kansas City DJs - Wedding DJs | Graduation Song | Omaha Dueling Pianos | Kansas City Bands for Hire | The Zeros Band | Liverpool | Dave Stephens Band | | Four Fried Chickens and a Coke | Nebraska Dueling Pianos | 2020 | Dueling Pianos | The Sunday Jones Comedy Radio Show | The Wednesday Hump Comedy Radio Show | charity fundraiser entertainment | corporate events company parties
_________________________________________________________________________________

Sushi Haru reviews by Kansas City 1 Stop - All Content Copyright 2021 by American Entertainment Solutions, LLC.