Presents...
Longhorn Steakhouse Reviews
Steak Restaurant in Overland Park, Kansas
Location at 4500 W 119th Street Overland Park, Kansas 66209 913-661-0373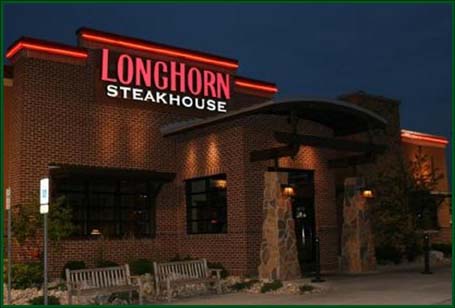 This is one of the best chain steak restaurants in existance if you are looking for fair prices, great service and a nice steak dinner. Longhorn Steakhouse, located near Town Center Plaza in Overland Park, offers excellent lunch specials all week long, including specials as low as $12.99 for Filets, Ribeyes and Sirloins with a side dish and a salad! We recommend the sirloin or the big ribeye steak. Longhorn reviews are usually very good and they are very popular with the seniors. A wonderful place to have a nice family dinner, the prices aren't too crazy and you can feed 6 people for under $100 if you know what you're doing. One thing that is great about the Longhorn is that you can get a nice steak dinner fairly quickly and without all of the fanfare and production that other steakhouses put in place. Typically your steak comes out in less than 10 minutes and you can literally be in and out of there in under 45 minutes. All of this without sacrificing the quality of the meal, as almost everything on the menu at Longhorn is grilled perfection! They also have a nice little bar that shows all the top sports events and the bartenders are very friendly and skilled. Please Tweet your Longhorn Steakhouse reviews to us at or look at the other Kansas City reviews below...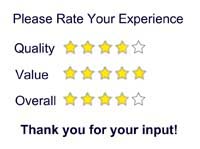 Reviewed on: August 1st, 2021
My grandmother and her friends eat here once a week for the lunch special and they just rave about it. "We'll see you at the Horn" they always say to each other. They enjoy the lunch specials that they offer every week and my grandma always gets the same thing, the filet with an appetizer of shrimp. I have gone with them a few times and I have always been very satisfied with my meal and the friendly servers who know my grandma and all of her friends. Longhorn reviews are usually great and my boyfriend and I have even sat at the bar a few evenings before going out dancing. It's right up the street and it's a nice place to go.

Longhorn Reviews - Steakhouse Overland Park
_____________________________________________________
_____________________________________________________
Reviewed on: July 20th, 2021
I don't have much luck with women, but I have great luck with steaks! I've been through three different girlfriends in the past few years and I've taken EVERY one of them to the Longhorn. All of the girls I bring here love it because they can get their "hunk of meat" fix on for the week and still not over do it. Since the Longhorn offers smaller cuts of steak, 6oz, etc. they can eat a steak and not feel too bad and have to go to the gym 16 times the next day. Longhorn Steakhouse reviews fall into the good category and I will back that 100% - even though I can't seem to keep a girlfriend...

Longhorn Reviews - Steakhouse Overland Park
_____________________________________________________
_____________________________________________________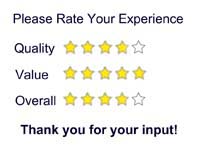 Reviewed on: July 16th, 2021
We just had lunch here and what a kick butt place that we found! I didn't even know this place existed. We've always just gone over to J. Alexander's and spent over $100 each trip to get a good steak, now I'm not knocking J. Alexander's because we love that place too, but the Longhorn is right in our backyard and it is so much cheaper and still serves good cuts of meat. Do yourself a favor Billy and take your date to this place, especially if it's a lunch type thing because they are fast, good and cheap, just like my ex. Longhorn reviews seem to be pretty good so we just wanted to thrown up our two cents. Also, they are awesome about replacing your steak if you don't like the way it's cooked. They got my girl's steak a little too done and they had no problem bringing her out a fresh one that was perfect. We will definitely be back to eat here.

Longhorn Reviews - Steakhouse Overland Park
_____________________________________________________
_____________________________________________________
Reviewed on: June 26th, 2021
This was my dad's favorite place to eat for lunch. He used to pack all of us up in the car and take us to Longhorn almost every other week or so. He always got the giant Cowboy Ribeye and we all loved the shrimp appetizers. I'm a sucker for deserts so I always got a different one each time. Longhorn Steakhouse reviews are in order as my dad ate here for over 15 years and probably still would be today God love him. We still go by there every once in awhile if we're entertaining friends and just want to grab a quick dinner, etc.

Longhorn Reviews - Steakhouse Overland Park
Longhorn Steakhouse Restaurant on Kansas City Restaurant Listing
_____________________________________________________
_____________________________________________________
Restaurants
Choose below to take a look at recent Kansas City restaurant reviews. Included in this assorted list are positive, negative and nuetral reviews for Kansas City BBQ restaurants, fine dining, steakhouses, and all votes go toward our famous "Best of Kansas City" awards for the most positive restaurant reviews.
Reviews of Kansas City Businesses and KC Company Reviews and Ratings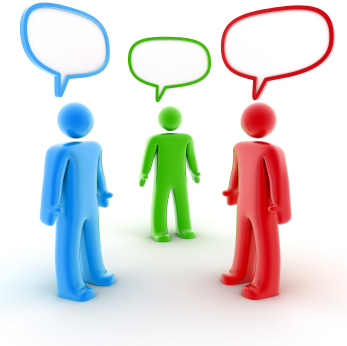 Finally! A FREE place to voice your opinion in the form of a review of local Kansas City businesses and companies that you have done business with and would like to rate them and leave comments. NO SIGN UP REQUIRED! Just follow us on Twitter and Tweet your reviews to us - it's that easy! We offer KC restaurant reviews, hotels, bands, rental car agencies, MCI airport, nightclubs and bars, theater productions, Kansas City concerts, grocery stores, entertainment, reviews of Kansas City contractors, lawn service, Kansas City weddings, coordinators, venuesand we also give you a "best of Kansas City" category so that you will see who has received the best Kansas City reviews from our site here at Kansas City One Stop.
Start Reviewing Kansas City!
Kansas City One Stop Menu

Kansas City One Stop is your one stop website to find information on KC reviews, bands, weddings, The Kansas City Chiefs, The Kansas City Royals, news, restaurants, bands for hire live, audio visual company, comedy radio, charity fundraisers and events, Kansas City hotels, information on New Year's Eve parties in Kansas City, 20s for KC, Halloween events in KC, downtown action and more. Visit often as this site is updated daily with fresh information about the Kansas City area including the Plaza, Westport, Overland Park, Leawood, Mission Hills, Lee's Summit and other surrounding areas in the KC area. Kansas City One Stop is locally owned and operated. Our goal is to bring you everything you need to know about our great city in one nice and easy "stop".

Kansas City Restaurants | Kansas City Bands | KCMB - Kansas City News | Bands for Hire Live! | BIG SHOW Dueling Pianos | kansas city wedding venues | Audio Visual AV Solutions KC | KC wedding bands | Kansas City Band and DJ Service | Kansas City DJs - Wedding DJs | Graduation Song | Omaha Dueling Pianos | Kansas City Bands for Hire | The Zeros Band | Liverpool | Dave Stephens Band | | Four Fried Chickens and a Coke | Nebraska Dueling Pianos | 2020 | Dueling Pianos | The Sunday Jones Comedy Radio Show | The Wednesday Hump Comedy Radio Show | charity fundraiser entertainment | corporate events company parties
_________________________________________________________________________________

Longhorn Steakhouse Reviews by Kansas City 1 Stop - All Content Copyright 2021 by American Entertainment Solutions, LLC.