Presents...
Gojo Steakhouse Reviews
Japanese Steakhouse in Kansas City
Locacted at 4163 Broadway KCMO 64111 - Phone 816-561-2501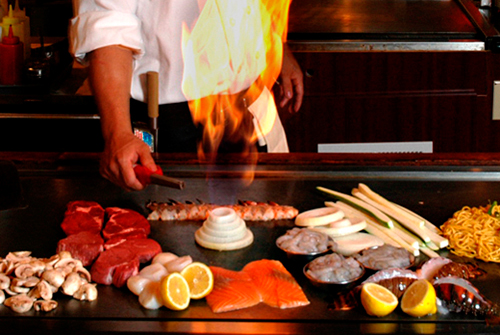 Most Kansas City citians have fond memories of dining at Gojo Steakhouse from the time that they were just children. This long standing KC staple attracts people from all over the Country to come and be dazzled by the famous chefs and the excellent Japanese steakhouse environment. Gojo reviews are typically very good and they contintue to be the premier Japanese steakhouse in the Kansas City area. Be sure and make reservations, and remember to tell everyone to be on time as they will NOT seat your party until ALL members of the party have arrived. They provide an excellent little dimly lit bar for you and your party guests to wait to be seated, and then once your entire party arrives, let the host / hostess know and they will lead you back into the dining room. From there prepare to be dazzled as the chefs are very energetic and funny and of course be ready to play the "catch the shrimp in your mouth" game. Some people love it, some people hate it, but whether you catch the shrimp in your mouth or not, people are sure to laugh at you either way. People watching is great here as well as all of the large 12 seat tables are right next to each other and you can watch other people having fun as well. Gojo steakhouse reviews are usually quite good as they were the first and still the best Japanese steakhouse in Kansas City. Please Tweet your Gojo reviews to us at or look at the other Kansas City reviews below...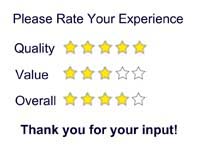 Reviewed on: March 28th, 2021
We take our daughter here every year for her birthday (since she was about 7 years old) and we just love it. The food is excellent and the service is top notch. MORE YELLOW SAUCE please is what she used to say when she was a child and continues to say it to this day! Gojos steakhouse is a great place to form lasting memories with friends and loved ones. Gojos reviews that we have seen have been excellent and our opinion is the same. We will be back next year!

Gojos Reviews - Kansas City Japanese Steakhouse
_____________________________________________________
_____________________________________________________
Reviewed on: March 20th, 2021
We're going to go with the full 5 Stars here. We just love the entire experience of dining at Gojo Japanese Steakhouse and have been coming here for years. From the great friends and conversation in the bar area before you get seated, to the wonderful presentation that they display at the dinner table. We have never had one issue with this restaurant and that is probably why Gojo reviews are always great. Just writing this review is making me hungry. I actually like the salad dressing, it is unique and just adds to the memories that will come back to you whenever you visit. Our Gojos reviews have always, and will continue to be awesome.

Gojos Reviews - Kansas City Japanese Steakhouse
_____________________________________________________
_____________________________________________________
Reviewed on: February 27th, 2021
Pass the yellow sauce! I can't dump enough of that stuff on my rice bowl. For the price you just beat Gojo Steakhouse. I think the most expensive thing on the menu is still less that $30 and I think that's the steak and lobster (which is AWESOME). Most people don't know about the Filet at Gojo but believe me, it's good. As with any Japanese steakhouse the company that you have at your table means everything, and good friends are important. Gojo reviews seem to be mostly positive and they deserve it, they all work very hard to serve you, giving you extra yellow sauce et al. My friends love this place most than the other similar restaurants and they really have a proven track record. My Gojo reviews will continue to rock. Thanks guys.

Gojos Reviews - Kansas City Japanese Steakhouse
_____________________________________________________
_____________________________________________________
Reviewed on: February 5th, 2021
Last night it was birthday time again for my wife and she just loves this place. It's never a question about what she wants to do for her birthday dinner, it's always Gojo Japanese steakhouse. This works great for me because I get to invite all of our friends for a fun night out drinking and catching shrimp in our mouths (my wife is an expert, by the bye). Gojos reviews are good for a reason, because they really put on a show!

Gojos Reviews - Kansas City Japanese Steakhouse
Gojo Japanese Steakhouse on Kansas City Restaurant Listing
_____________________________________________________
_____________________________________________________
Restaurants
Choose below to take a look at recent Kansas City restaurant reviews. Included in this assorted list are positive, negative and nuetral reviews for Kansas City BBQ restaurants, fine dining, steakhouses, and all votes go toward our famous "Best of Kansas City" awards for the most positive restaurant reviews.
Reviews of Kansas City Businesses and KC Company Reviews and Ratings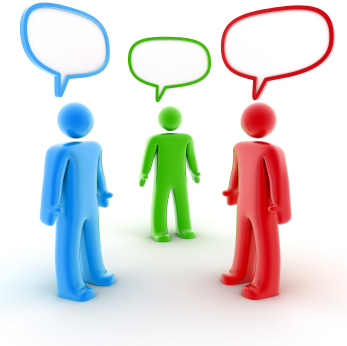 Finally! A FREE place to voice your opinion in the form of a review of local Kansas City businesses and companies that you have done business with and would like to rate them and leave comments. NO SIGN UP REQUIRED! Just follow us on Twitter and Tweet your reviews to us - it's that easy! We offer KC restaurant reviews, hotels, bands, rental car agencies, MCI airport, nightclubs and bars, theater productions, Kansas City concerts, grocery stores, entertainment, reviews of Kansas City contractors, lawn service, Kansas City weddings, coordinators, venuesand we also give you a "best of Kansas City" category so that you will see who has received the best Kansas City reviews from our site here at Kansas City One Stop.
Start Reviewing Kansas City!
Kansas City One Stop Menu

Kansas City One Stop is your one stop website to find information on KC reviews, bands, weddings, The Kansas City Chiefs, The Kansas City Royals, news, restaurants, bands for hire live, audio visual company, comedy radio, charity fundraisers and events, Kansas City hotels, information on New Year's Eve parties in Kansas City, 20s for KC, Halloween events in KC, downtown action and more. Visit often as this site is updated daily with fresh information about the Kansas City area including the Plaza, Westport, Overland Park, Leawood, Mission Hills, Lee's Summit and other surrounding areas in the KC area. Kansas City One Stop is locally owned and operated. Our goal is to bring you everything you need to know about our great city in one nice and easy "stop".

Kansas City Restaurants | Kansas City Bands | KCMB - Kansas City News | Bands for Hire Live! | BIG SHOW Dueling Pianos | kansas city wedding venues | Audio Visual AV Solutions KC | KC wedding bands | Kansas City Band and DJ Service | Kansas City DJs - Wedding DJs | Graduation Song | Omaha Dueling Pianos | Kansas City Bands for Hire | The Zeros Band | Liverpool | Dave Stephens Band | | Four Fried Chickens and a Coke | Nebraska Dueling Pianos | 2020 | Dueling Pianos | The Sunday Jones Comedy Radio Show | The Wednesday Hump Comedy Radio Show | charity fundraiser entertainment | corporate events company parties
_________________________________________________________________________________

Gojo Reviews by Kansas City 1 Stop - All Content Copyright 2021 by American Entertainment Solutions, LLC.